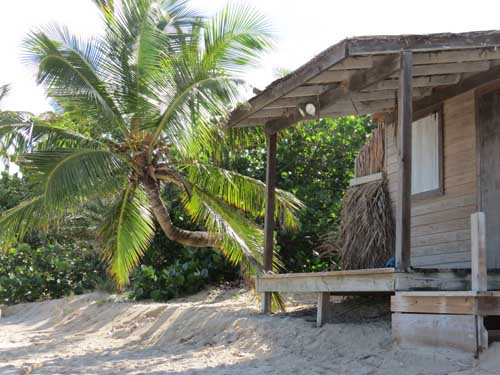 They laze together at the water's edge, toes playing in the turquoise Caribbean. She sips her piña colada, turns to mouth a kiss at her husband, at her sensible Philip.
It's three days since they arrived at their Antiguan paradise, three days to unwind and shed the burden of suburban toil. He's keen to make this holiday special, this tenth anniversary. He grins back, reaching to trace a finger around her chin and down across a bare nipple.
Images of the previous evening float through his mind. Steamed lobster, the diamond earrings she found in her oyster and many glasses of champagne. They'd stumbled back along the sand to their room, tiny curls of surf breaking and sparkling in the moonlight, before draining another bottle and collapsing, giggling like teenagers, onto the vast bed.
At breakfast he produced a small, blue envelope and tucked it under her toast. She opened it and scanned the card within.
'Oh Philip, how wonderful – ten sessions with Coco at the Beauty Shack!' She rose from the table, cradled his face in her hands and kissed him. An elderly couple at the next table smiled approvingly and gave a gentle applause.
The Beauty Shack was a simple wooden shed, set back from the apartments and reached along a narrow, winding path through the woods. It was extremely popular, a steady stream of beautifully coiffed and manicured women passing back and forth along the shady track throughout the day.
Just after 4pm she was back, shaking him from a deep sunbed sleep and presenting sparkling fingernails for inspection. He wiped a slug trail of dribble from the corner of his mouth and sat up.
'I've booked a longer session tomorrow Philip – Coco's giving me a hot stone massage so I'll be gone a couple of hours.' She squatted down and smoothed his ruffled hair. 'You don't mind, do you?' He smiled up at her and nodded, squeezed her hand hard, thrilled that the surprise had been such a great idea.
By the end of their first week, she'd used her ten sessions but continued to rave about Coco's green tea body scrubs and Indian head massages. That evening over cocktails she told Philip that she'd paid for another ten herself. He raised a toast to the Beauty Hut, to the renewed self-confidence it had brought his wife and reflected on the spontaneous and energetic sex she'd thrown herself into most nights.
On the Sunday morning he was up early, searching for the pelican's nest by the lake, eager to snap a long-range photo in the warm early rays. He made a detour by Reception to pass on his thanks for making his wife's holiday so thoroughly enjoyable.
'Is Coco here yet?' he asked. 'May I have a quick word with her?' The two young women behind the counter exchanged a glance before the older of the two turned back to him, a broad smile creasing her face.
'Oh my Lord,' she clapped. 'Not on a Sunday – give the poor man a rest!'