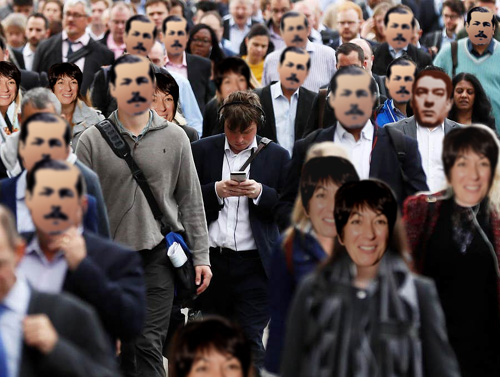 The hottest items on sale along Oxford Street this weekend were full-head, latex masks, snapped up by wiley shoppers eager to avoid being captured on the capital's latest AI system.
Available in eight different styles, the highly realistic masks offer well-known faces including the celebrated explorer Lord Lucan, East End philanthropist Ronnie Kray and Prince Andrew's PR advisor Ghislaine Maxwell.
A Metropolitan Police source confirmed that wearing a mask in public is currently not an offence and that the masks had successfully blocked AI facial recognition of numerous people before the system crashed at 3.15pm on Saturday afternoon.
The source revealed that the storage units in its IBM Z15 computer had melted and caught fire after 14,600 Lord Lucans had been identified within a 30 minute period.
Civil liberties group Big Brother Watch welcomed the tactic and encouraged everyone in the UK to wear one whenever they left the house.