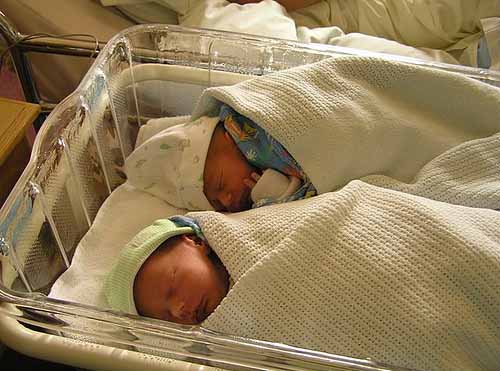 An elderly Birmingham pensioner has emerged from a five-day coma to discover that she had given birth to twin boys.
Elsie Tollworthy, who had no idea she was pregnant, was taken to hospital last Wednesday after suffering a seizure on winning the £12 jackpot at her local bingo hall.
She was placed in a coma, during which doctors soon realised she was heavily pregnant and delivered the healthy 6lb 2oz babies by caesarian section. The unborn babies may have been conceived by an extremely rare condition known as uterus geriatris, in which eggs are still being produced sporadically in much later life. The condition is thought to affect around one in 600 million women.
Mrs Tollworthy, who has thirteen children and twenty nine grand-children, has named the boys Bill and Ben after her favourite childhood TV programme. She told our health correspondent: 'Who would have thought it? Honestly dear, I had no idea I was up the spout.'
She said that she'd had no bump and no morning sickness. 'People keep asking 'who's the father' but I haven't got a clue. Does it even need a man these days, they can do such wonderful things can't they?
'Meeting my new babies was so weird, like one of those 'out of body' thingies you read about, but I really do love them and I can't wait to get them back to the care home. It's a miracle, isn't it?'