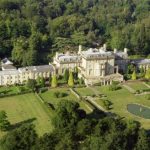 A World War II veteran says he is trapped in an 'unreasonably demanding marriage' after a court refused to allow him to divorce his Latvian wife on the grounds of her unreasonable behaviour.
Geoffrey Trellis, aged 97, a multi-millionaire entrepreneur from Devonport, claims that his marriage to 23 year-old lingerie model Olga Balodis had broken down irretrievably, after tolerating two years of her 'unrelenting sexual demands'.
His wife opposed his application and denied the allegations. She told the court that she did not want to get divorced because she felt her husband 'still have tiger in tank.' "Also, I like much my Ferrari, the swim pool and also I feel princess with many jewels. In my old village I have just cow."
Mr Trellis has moved into a cottage on the 600 acre estate of Grade II listed Phakingham Hall while his wife remains in the marital home.
Speaking after the hearing, Mr Trellis described his marriage as a 'living hell'. "When we first met I thought 'oh goody, someone to help me prune the roses' but then she started putting these delicious blue sugar lumps in my cocoa every night. I've had to sleep on me back for the past 12 months."
Judge Crispin Aromat-Thystle ruled that, since only one party wished to divorce, under the current law Mr Trellis must stay married for a further three years. His solicitor, Alvin Swindell, confirmed that his client would lodge an appeal.