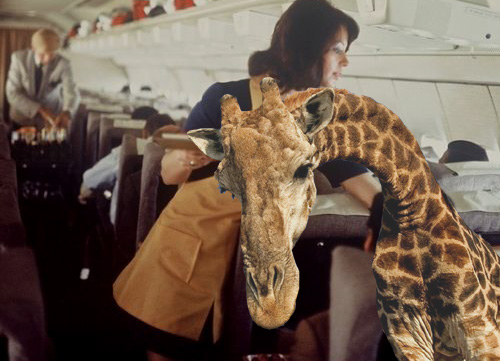 In a move welcomed by nervous fliers, the tiny Kenyan airline Icarus Air has announced that from March 1st it will allow passengers to be accompanied by a giraffe as an 'emotional support animal'.
FAA regulation 4A-29147 (Appendix G) currently restricts such animals to domestic pets including cats, dogs, small birds (excluding pigeons) and 'other such creature as shall be deemed to be of essential psychological reassurance to a passenger during his/her/its flight'.
It is this last phrase which Icarus Air successfully cited in a recent Supreme Court appeal, leading to the market-leading announcement. We understand that passengers will be permitted one giraffe each, up to a maximum height of 4 metres. Giraffes will have no duty-free allowance but will each be allowed a 22 kg carry-on basket of Arcacia leaves.
The airline's CEO David Lankenua was highly enthusiastic about the new service.
"This is a very exciting day for our company," he told Spoofflé. "It means that Icarus customers, even very scared ones, can now fly without a care, anywhere in the world."
We asked Mr Lankenua for flight costs for a typical return trip from Nairobi to New York on one of the company's three Boeing 707 aircraft.
"Well," he said. "Let's not get ahead of ourselves. A single flight to New York with a 3 metre giraffe would cost only $29."
Mr Lankenua was reluctant to give a price for a return flight, adding only "let's see how the flight to New York goes. If it gets there, we'll try to come back as well."