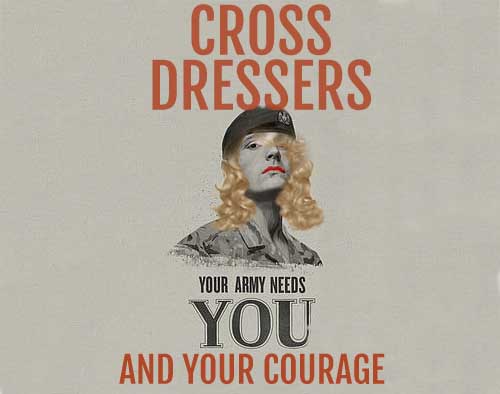 The British army is calling on "selfie addicts, phone zombies and cross-dressing millennials" to join its ranks in a recruitment drive targeting young people.
Posters and TV ads in the First World War style of 'Your Army Needs You', says the army could use the "compassion" of "snowflakes", the "focus" of Instagram addicts and the "courage" of cross-dressers.
In one advert, a soldier with bulging biceps and flowing golden locks says: 'You've got the guts sunshine, you're really out there aren't you?' Forget Saturday nights at the 'Pig and Stiletto' – come and join us in the Army!
As he loads live lipsticks into an ammunition belt, he continues: 'Listen – you won't have to kill anyone and there's absolutely no danger of snagging your tights on barbed wire.
What we need is the incredible courage you've already demonstrated to get behind enemy lines – usually a nice hotel bar in somewhere like Vienna or Stockholm – and bring back their secrets: what foundation are they using? Do they run their hair curlers on 12 volts or 24v? How do their special forces prevent mascara running in heavy rain, that sort of stuff.
Up for it? Then call Army today!'