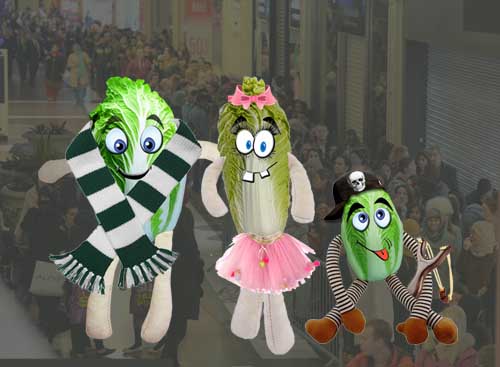 Parents are racing to scoop up the remaining stocks of 'Kenny the Cabbage' soft toys featured in Asda's tear-jerking Christmas advert.
Kenny and his wife Kaylee starred in the animated advert in which son Kane is given an ASBO for shooting Father Christmas with a catapult in a Salford shopping centre. The 45 second mini-drama ends with Sir Elton John giving Kane a piano and private music lessons.
Amazon says its initial stock of 300,000 'Kenny the Cabbage' soft toy family sold out in under ten minutes last Monday.
Mother of twelve Dawn Kinlan told Spoofflé she heard a rumour on Facebook that Asda in High Broughton had a few left. 'I come down 'ere last night and we've camped out like,' she said, shouting to be heard over the angry screams from the queues, estimated at over 2,000.
'My Aidan 'aint slept a wink since Amazon sold out and now the doc says he's got PTSD to go wiv 'is ADHD. If ASDA 'aint not got none then basically we're stuffed. I mean, it 'aint fair ruining the kiddies' Chrimass is it?'