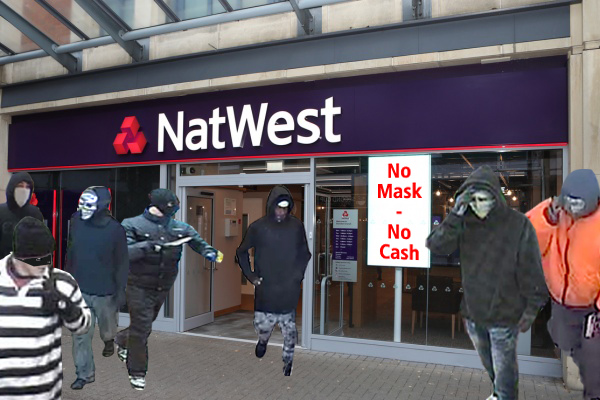 NatWest Bank has reported a 300% increase in robberies at branches across the UK as villains take advantage of strict new COVID-19 rules on the wearing of masks in shops.
An employee at one of their Basildon branches tackled a would-be robber on Friday morning, restraining the heavily masked man until police arrived.
37 stone Accounts Manager Brian Fallon told our crime correspondent what happened.
"So, basically, I just sat on him," he said, "listening to him ranting and raving about being a totally innocent customer. He said his mates had told him the banks were giving away cash to everyone who turned up in a mask, so he did."
Essex police later detained a 26 year-old man for possession of a sawn-off shotgun and for not wearing a mask that covered his entire mouth in a public place.