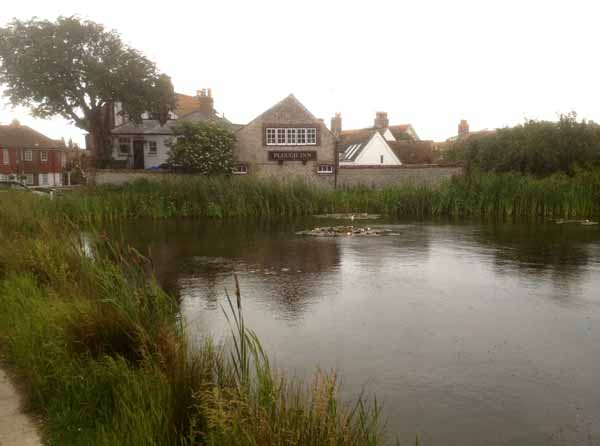 Residents of the sleepy village of Rottingdean are bracing themselves for major disruptions, after a local salvage company started work to recover the bicycle of butcher's lad Fred Hoskins.
On June 4th 1945, Fred's brakes failed while peddling at speed down Vicarage Lane with a basket loaded with pork sausages. Fred and his bike disappeared into the muddy depths and, despite repeated attempts, no trace of them or the sausages was ever found.
But Brighton recovery firm Baxters stepped in last year and after three months of sonar scanning and the use of the latest underwater drone, have finally located the bicycle.
Operations Director Marcus Downey explained the challenges his team had faced. 'It certainly wasn't straightforward,' he said. 'What with those mists rolling off of the Downs and the zero visibility when we reached the bottom at seven feet, yeah, I'd say it's been a very tricky one.'
Spoofflé readers may recall that it was Mr Downey's firm who in 2016 successfully recovered a lost zimmer frame from Hove boating lagoon, an operation which many believed too hazardous to attempt in February.
A 60 tonne Liebherr 1060 crane arrived from Germany last week and will be erected by the pond on Tuesday for lifting work to commence. The task is expected to take up to eight weeks. 'You can't rush this sort of nasty job,' added Mr Downey. 'God knows what the lads could meet … beer bottles, milk crates, we even came across some very sharp stones too.'
Not all of Rottingdean's residents are happy with the project. 'It's not right, is it?' said 93 year-old Gertie Fellowes from Lavender Cottage. 'It's a war grave isn't it? They should let Fred stay where he is.'