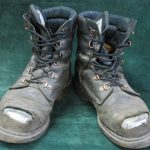 Callum Smedley, 49, from East Cheam, yesterday become the first person to crawl around the world. It has taken the bricklayer twenty six years and ninety three days to complete the astonishing feat, during which he claims to have worn out 84 pairs of jeans and 17 pairs of steel toecap boots.
Crawling off the ferry at Dover, Smedley reflected on the marathon and what had prompted it. "It was a bet, down the Snail and Hammer one Friday night," he said. "Barry Jones says a fiver I couldn't do it, I says I can, he says impossible and so I 'av. I done it. Got to find the bugger now."
Since leaving the UK, Smedley says he has crawled 21,000 miles across every continent, attracting followers wherever he went, not always with innocent motives.
"India was the worst," he recalled. "Kids thought I was a bleedin' taxi, I carried one of them from Delhi to Jaipur! Never paid me, neither." Animals were a problem too. "Canadian brown bears, cor what a nightmare, especially the males. Kept a book down the back of me trousers after that."
Did he ever stand up, he was asked by a BBC reporter? "Nope, not once in the whole trip," he claimed. "Not even for a pee."
As Mr Smedley was last night preparing to appear on television and had appointed an agent to begin book and film negotiations, doubts began to grow about the voracity of his claims. A woman called Gloria, who claimed to be his wife, telephoned Spoofflé in an agitated state. "He's a lyin' bastard!" she screamed. "He ain't been crawling' round the world, e's been hiding from me and the kids so he don't have to pay nuffin'!"
Mr Smedley was this morning still unavailable for comment.