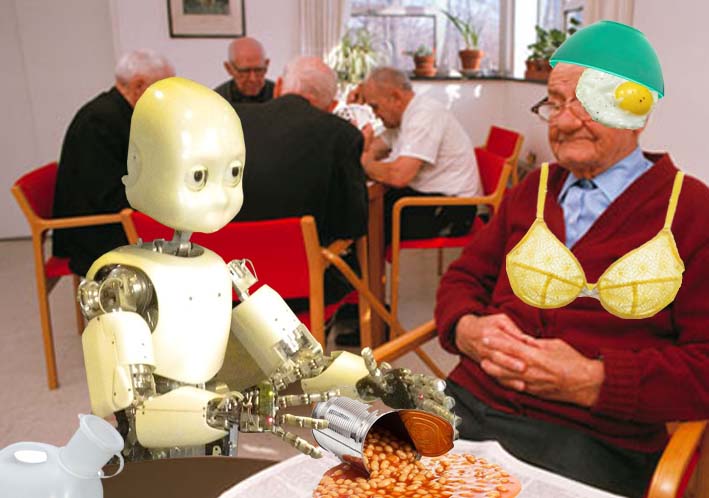 Residents at Journey's End residential home in Esher, Surrey, breathed a sigh of relief last Friday when a care robot was removed following months of complaints.
Geri, a four foot six tall third generation humanoid is manufactured by Deckler Corporation (Chicago) and has been helping staff to dress and feed the residents.
However, in spite of intensive training sessions and a major CPU upgrade in July, the £67,000 robot appears incapable of fulfilling his duties to an acceptable level.
Resident Bertie Penfold, 88, is glad to see the back of the thing. 'He was all right to begin wiv, 'e was, nice and respectful like, 'Yes Mr Penfold, 'Right away Mr Penfold sir' and all that crap," he told us. "Then some smart arse programmer aged about 10 turns up and changes his internal gubbins and blow me, he turns it into a bleedin' monster!"
Residents claim that Geri deliberately put the wrong clothes on them in the morning, served them orange squash in bed bottles and refused to learn which of their orifices was for food. Several folk also say they heard Geri chuckling to himself.
A spokesman for Deckler Corporation told us: "Our advanced digital support assistants are programmed to follow a strict care regime. Geri has returned to our UK service centre for a minor adjustment." He also denied emphatically that the robot could possibly have called a resident a 'dozy old tosser'.