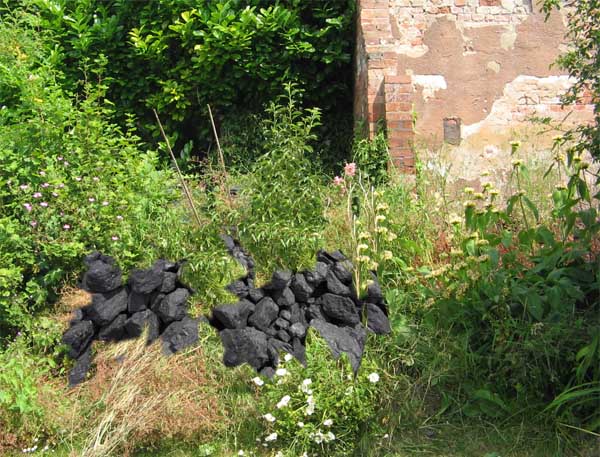 School teacher Martha Bankcroft, 29, was surprised to discover more than a ton of coal buried beneath dense weeds in the garden of the Bristol home she shares with husband Gareth, a local Community Support Police Officer.
The couple moved into the terraced Victorian property in mid-March and last Sunday set about clearing the back yard of decades of rubbish when they made their startling find.
'Martha was jumping up and down like a mad thing,' Gareth, 31, told our Science correspondent Oliver Flimwell by telephone. 'I thought she'd been stung or something, so I runs over and I sees she's got like a big lump of something very black and dirty in her hand. I made her put it down so I could carry out my investigations on Google and Wikipedia and I confirmed that it's definitely some sort of coal.'
Gareth's 90 year old grandmother Alice Siggs suggested they burn it in their sitting room fireplace. After some initial reluctance, Gareth finally tried what he considered to be his nan's daft idea but was amazed to see the coal burst into flames.
'I honestly thought "no way" that's going to burn it's so old, but it really did,' said Gareth,
'We reckon like, as the cottage was built in 1858, that coal must be at least 160 years old, yet it still burns just like new. I can't wait to tell the lads down the station.'