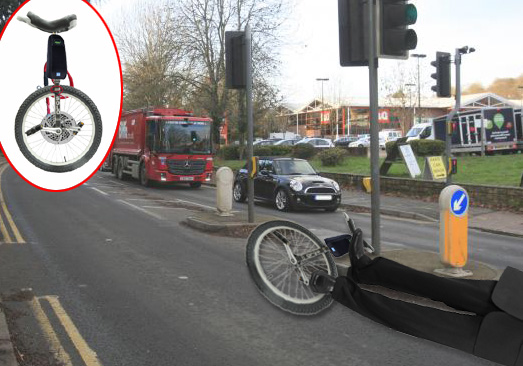 Department for Transport (DfT) officials today ordered the suspension of trials of e-Unicycles on the streets of Coventry.
The battery-powered machines weigh only 22Kg and, in the right hands, have a top speed of 7mph. Coventry City Council purchased 75 'Wizzo200' e-Unicycles from Swedish manufacturer Ovo, hoping their introduction would wean motorists away from their environmentally unfriendly vehicles.
Coventry's 'Big Green Future' Manager Pierre LeBlanc joined the council after touring the world for ten years with Cirque du Soleil. He told us he still had no idea why people were having a problem using the e-Unicycles.
"What is ze matter wiz zese people?" he asked. "She is just a bike wiz one less wheel."