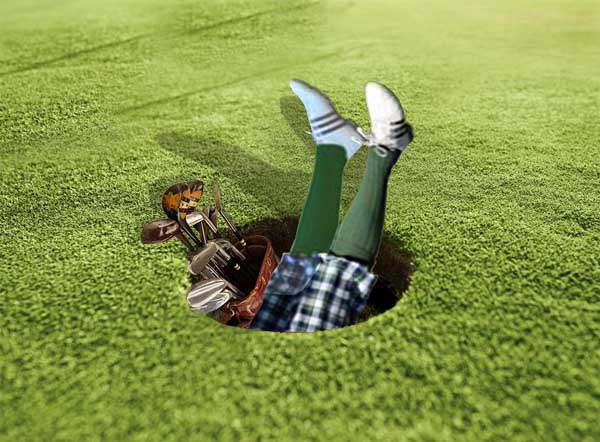 Leading golfer Lee Westwood last week called for golf to have an urgent image overhaul as participation continues to fall. "We should make the sport quicker to play,' he said, 'and make the hole cups larger.'
Calderbury-on-Sea council acted quickly, opening its own accessible golf course but after just three days has had to close it, following a series of unfortunate putting incidents.
On Wednesday afternoon ex-RAF navigator Jacob Anderson, 92, was lining up to take a putt when he lost his balance and toppled head first into the two foot wide hole. Luckily, he was swiftly pulled out by fellow golfers, suffering a bruised forehead and a missing hearing aid. 'Those blighters are damn lethal,' he told us. 'I'm really furious so I've written to The Times.'
Mr Anderson's accident was followed the very next day by the disappearance of eighty one year-old Marjorie Fallon, a Calderbury sweetshop owner. Her cousin Hettie was watching as Mrs Fallon reached into the hole to retrieve her ball.
'She just sort of toppled and was gone,' she said. 'Marjie were only four foot ten she were, so we all called her midge. But you know it's just so sad isn't it because she'd had seventeen holes-in-one in a row and the eighteenth would have made her day.'
After making the area safe, fire and rescue services used climbing equipment and floodlights to search the hole but so far have found only a set of dentures and a half-eaten bag of Jelly Babies.