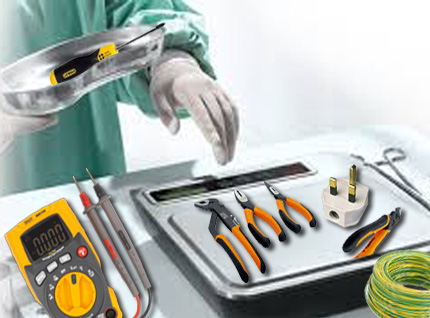 In a radical move designed to meet the severe shortage of hospital consultants, NHS England has announced a fast track conversion programme for electricians.
Starting in April 2022, the intensive 6 week course will take an electrician with at least 12 months' experience and NVQ Level 3 to the post of senior neurosurgeon.
The project is the result of three years' collaboration between University College London Hospital and Piddingthorpe Tech.
Spoofflé has learned that a pilot programme held last autumn produced outstanding results, with four out of the five attendees graduating with honours. The only participant not completing the course failed after forgetting that the blue wire always goes on the left ear, not the right.
Romanian electrician Luca Dumitrescu from Mujna was thrilled with his new medical career. "It for me no big deal," he said. "I good with hand, fix tractor, AK47, anything."
We asked him whether he had found it difficult to acquire the vast amount of medical theory involved in becoming a neurosurgeon.
"Not for me is difficult no," he said. "Luca he have good memory. I know all area of brain, like frontal cortisone, hippocampsite and cerebellend. How you say, piece of cakes?"