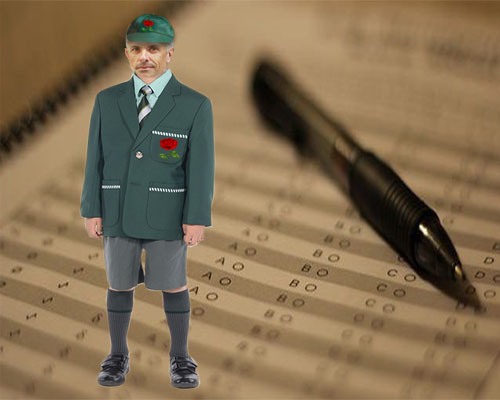 A fifty-three year old entrepreneur from Wilmslow tricked teachers at Oak Grange Grammar School into believing he was his eleven year old son Ben, then proceeded to sit the 11 Plus exam in the boy's place.
Staff became suspicious about his age when Mark Dabney was unable to answer any of the question on the paper, stomped out of the exam hall and drove off in a 2018 Jaguar F-Type.
Spoofflé tracked Mr Dabney down to the family's £4 million mock Tudor mansion in Alderley Edge and he agreed to an interview. 'Ben's a complete tosser,' he told us. 'We still have to do his laces up for him but he really wanted to go to Oak Grange so he can play cricket every day.'
Our reporter wondered if Mr Dabney, apart from wearing a school uniform, had prepared in any way for the exam.
'No, not at all actually,' he said. 'I thought it would be a piece of piss, you know, complete the sequence 2, 4, 6 then what come next? But bloody hell, it was like an entrance exam for GCHQ. I suppose he'll have to go Spratt's Bottom Secondary, like I did.'