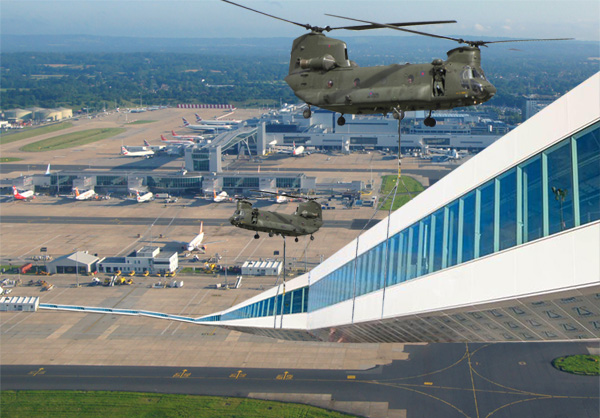 The aviation industry last night welcomed the completion of the UK's first air corridor to Spain, finally enabling holidaymakers to escape the coronavirus lockdown.
Built from scratch in just thirteen days, the air corridor stretches from the boarding terminal at London Gatwick to Alicante airport in Spain and comprises 122,000 linked segments supported by squadrons of RAF Chinook helicopters and hundreds of giant helium balloons. The corridor is carpeted, offers water coolers every mile and features continuous background music by artists including Petula Clark and Val Doonican.
Prime Minister Boris Johnson hailed the project as "a jolly spiffing show of Britain at her whacky best."
However, there have been mixed reviews from people who have used the new service. Jarvis Pound, a plumber from Southend, was one of the first to head to Benidorm with his wife Jadey and their eleven children.
"Bit of a let-down to be honest," he told Spoofflé. "We assumed we was gonna be sitting in, like a bus or something, but bugger me, they give us all them e-scooters and said 'off you go'."
Jarvis says it took the family over three days in the air corridor to reach Alicante. "Bleedin' waste of 1,300 quid," he said. "All we got was a couple of hours on the beach and it was time to set off 'ome again. Rubbish."