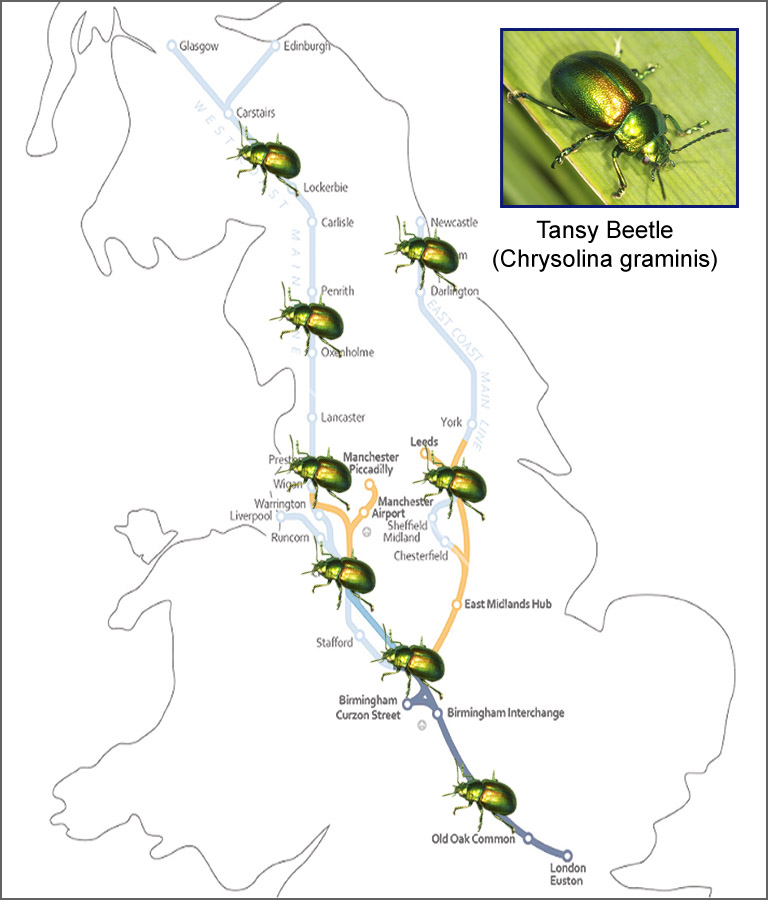 The £60Billion HS2 rail project is today on indefinite hold, following the surprise discovery of a rare species of beetle, breeding at multiple greenfield sites along all of the proposed routes.
The endangered Tansy Beetle is a large and iridescent green leaf insect, said to have been so admired by Victorians that they were used as sequins.
The Royal Entomological Society confirmed to our science correspondent Dr Crispin Grundwald that the species, once widespread in Britain, is currently endangered, which means that public bodies have a duty to protect it, together with its habitat.
Previously believed to survive only along a 30km stretch of the banks of the River Ouse around York, the beetles are now breeding vigorously at six locations directly across the path of both the HS2 and HS3 rail links. Dr Ant Walker from the Society was unequivocal: "This is a game-changer, going forward, and sounds the death knell for this monstrous vanity project. Such a precious beetle community will be fully protected by law. They're literally untouchable."
Field workers from the action group 'Save our Tansy Beetle' could offer no scientific reason why the insect should have suddenly appeared at only these six locations and, even more curiously, on the same day.
Jacko Spadeworthy, a spokesman for the group, told Spoofflé of their delight at the discovery. "Bloody brilliant!" he said. "We've been praying for a miracle and here it is. Not just a couple of beetles but six frigging communities, hundreds of the lovelies, slap bang in the way of those stupid, pointless, unnecessary, over-priced railways. No way can it go ahead now man, no way."
The beetles are dependent on the increasingly rare Tansy plant as their sole food source. We asked the action group if they were aware that large, fresh patches of Tansy had also sprung up simultaneously at the six locations in the past few months but nowhere else in the UK. Jacko Spadeworthy was non-committal. "No idea mate. Serendipity, perhaps?"