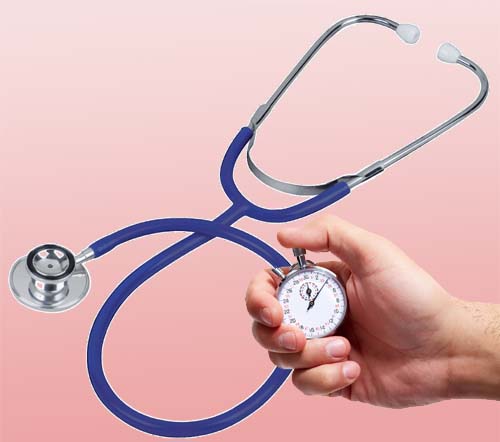 Overworked GPs have been told to increase the time they have available to see each patient from the current average of 27 seconds to 'at least 2 minutes'.
The Royal College of General Practitioners has issued the guidance following an 18 month survey of patient satisfaction.
Director of Information Dr Streynsham Reynolds told Spoofflé: "Sadly, GPs have become so burdened due to NHS budget cuts that they really only have time to say 'Good morning, what's the problem?' before an alarm bell rings and the patient is shown out."
"But", he said "with a full 2 minutes' consultation available for every patient, there will be plenty of time for the doctor to examine a tongue or take blood pressure, but unfortunately not both."
Spoofflé later tracked down a GP in Southend who claims to be able to squeeze in at least 750 patients in a typical day. Dr Patricia Hart insists that her patients thoroughly research their symptoms on the internet and complete a 27 page questionnaire before emailing the surgery with the results, including any photos they have taken. "I know it's crazy but it's the only way we can get through the workload," she said.
In most cases, Dr Hart tells us, she is able to avoid any personal contact at all with patients, replying to their emailed concerns with recommended medical actions such as 'Whatever you do, don't burst it' or 'Keep taking the tablets'.