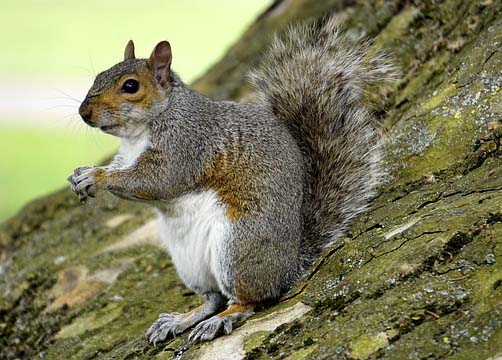 Chatham Magistrates Court this week handed an ASBO to a male grey squirrel who had 'repeatedly and deliberately' thrown acorns and hazelnuts at walkers in Bluebell Woods, a local beauty spot.
Clarence Hopkins and his wife Deidre are regulars to the woods. 'It started about a month ago,' said Clarence, a retired VAT inspector. 'We always walk there in the mornings and were quite shocked when this little hooligan started chucking nuts and twigs from a branch high up. An acorn hit Deidre on the side of her head and broke her hearing aid so I said to her, that's it, I'm going to report it.'
The police were initially sceptical but soon took the complaint seriously when PC Troy Horsemann went to investigate.
'He's a cunning little bugger,'said the officer. 'Waited till I was under his branch then let me have it. I got quite a nasty scratch on my hand and I've been off sick with it since March last year.'
Magistrates have imposed an ASBO on the squirrel, nicknamed 'Hero' by local youths, with the stipulation that it does not venture closer than 1 km of Bluebell Woods for 12 months and reports to the RSPCA once a week.
The RSPCA officer charged with monitoring the miscreant's behaviour told Spoofflé: 'He'll never change. This sort of loutish behaviour was probably OK in Manitoba or Maine but not in Kent. And you'd never catch a red squirrel doing this sort of thing.'