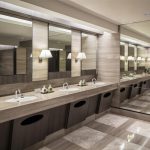 A 33 year old Nuneaton man with a PhD in molecular biology has given up a senior management role at AstraZeneca to clean the lavatories at HS2 Birmingham headquarters.
Bryn Williams was revealed in a FOI request to be one of eleven cleaning staff earning over £70,000 at the company. He learned of the vacancy from his brother Geraint, a heart surgeon who recently left the NHS to clean windows at Northamptonshire County Council's new offices.
"It was an offer I just couldn't refuse," said Williams, married with three young children and a Labrador. "It's a 20 hour week, twelve weeks paid holiday, full BUPA cover, a new Audi A6 every year and free Marigold gloves. There were hundreds of applicants for interview, queuing all along the Queensway, but I think it was my dissertation on Adeno-associated viral vectors and their relationship with successive nucleotides linked by phosphodiester bonds that swung it."
Dr Williams' responsibilities include mopping the Italian marble cubicle floors, replenishing the crushed velvet toilet tissue and polishing the gold taps. "My old workmates laugh at me but it really is a fascinating job," he told Spoofflé.
A spokeswoman for HS2 denied that the company was wasting taxpayers' money. "HS2 is a vital component of our communications infrastructure," she said, "and to keep the project on schedule and within a tight budget it's essential that we attract and retain the very best talent available."
Simon Kirby, recently appointed Chief Executive, is understood to be running a three month directors' strategy meeting at the company's beachfront training centre on the island of Grand Cayman.