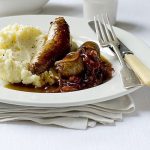 Jeremy Corbyn's team were in turmoil last night after a 36 year-old pole dancer, who performs under the stage name of Sturdy Annuals, claimed to have seen the Labour leader tucking into bangers and mash in a Camden café.
Sturdy (real name Kylie Legge) was enjoying a cuppa with a friend in The Jolly Faggot last Tuesday lunchtime when she spotted a familiar figure sitting alone in a corner, talking to a marrow.
"I knows it was 'im cos of that cap and the fuzzy white beard and that googly eye, like my Stevie's went after he stabbed himself wiv a rusk."
Ms Legge says that when she smiled at Corbyn and snapped a photo, he covered the plate with his hat, paid the bill and rushed out.
But it was not to be the end of the incident. Ms Legge has told this paper that two days later as she was queuing with nine of her children at an Asda checkout, a man in a black fur hat she'd never seen before sidled up to her and tucked a small brown envelope in her pocket."He didn't say much, just looked at the kids and said 'ere's something for
the many and don't say nuffin to the press about you-know-what.' Ms Legge says the man called himself Ivan and before she could open the envelope he had disappeared. She refused to say how much money he had given her but it was 'enough to buy myself an iPhone 8 and some vests for the kids.'
A customer at the shop reports seeing the mother of twelve sign a paper and hand it back to the man. Ms Legge however denies this and is believed to be in negotiations with News International.
Our reporter also spoke to the owner of the café who confirmed that the politician was a regular customer.
"He very nice, very quiet mans," said Eizens Mezhlauk, filling pie crusts with red cabbage and minced goose entrails. "He ask always please to wrap meat in cabbage leaf, like make secret, but I think he playing with his sausage and it pop out."
Mr Corbyn's office was not available for comment but it is understood that Ms Legge – aka Sturdy Annuals – will be appearing on BBC's Newsnight this evening.