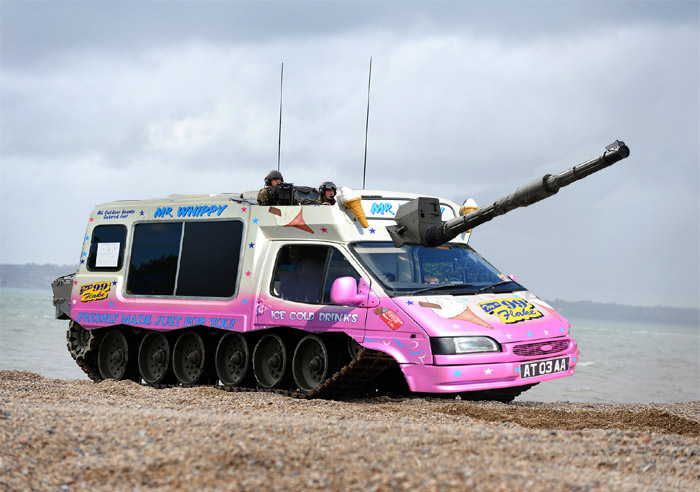 A large-scale trial by the British army has found that disguising Challenger 2 tanks as 'Mr Whippy' ice cream vans made it 78% more difficult to identify them compared with 'bog-standard' designs.
The 18-month 'Operation Cornet', run by the Armoured Trials and Development Unit (ATDU) on the tank training range in Bovington, Dorset, was described as a 'game changer' by commanding officer Lieutenant Colonel Nick Shelley.
Colonel Shelley said that confusing an enemy soldier for just a few moments could make a huge difference in a combat scenario.
"If I can delay that targeting cycle, put some doubt in his mind, then that's a win . . . if I can add ten more seconds while the bad guys are discussing whether they want a double flake or a Cornetto, then perhaps I can get a shot off first."
Spoofflé's Defence Correspondent Rory Barrel remains sceptical of the army's findings. "I'm not sure the simultaneous appearance of 700 ice-cream vans along the Russian border is going to fool anyone."
The army's attempt at deception is also not helped, Rory observed, by the fact that 'Mr Whippy' is a popular chain of Moscow massage parlours.
"I did what I always do and asked Daisy, our nine-year-old daughter, for her opinion. I showed her the photo and asked her what she saw and she said: "That's a type FV4034 Challenger 2 with a 26 litre Perkins engine."