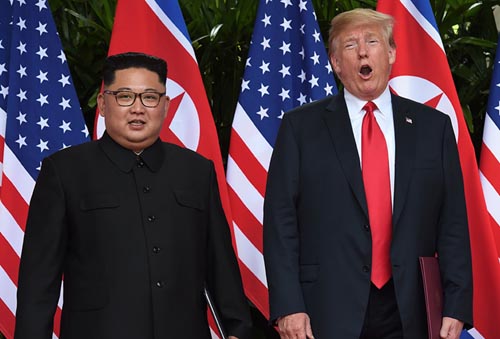 In a sensational follow-up to Donald Trump's claim yesterday that he and the North Korean leader had 'fallen in love', Spoofflé has just received a copy of an intimate note sent to the president by Kim after their private meeting in Singapore.
The email, forwarded to us by a White House mole, reveals the relationship to be far warmer than Trump would have us believe. We have printed the email unedited below. Its crude grammar and vocabulary suggests that Kim did indeed write this himself, probably to avoid using an interpreter who he would have eliminated shortly afterwards:
Dear fairy fingers! Ha ha ha! That joke.
Why you no write me back quick? It nine day from last time you calling say you love me!! I go up palace wall. When I come Wite House see you, eh? Bring Kim own toilet so no problem if we share bathroom.
What suprise when special gift come to palace and Kim take pink paper off to see star and stripe boxer short! Ha ha ha! Like more birthday for Kim who already have six each year! How you know Kim size XXXL, eh? Kim think Donnie Dotard have peek down Supreme Leader pants in Singapore, eh? Don, Donnie, Donno! I like say you name quick! Sound like favourite Osmond singer of Kim.
Now Kim being serious please Donnie. Have you yet tell Melania about us? You promise! I tell already wife Ri Sol-ju about our love on Monday, she go crazy with wok is smacking Supreme Leader in head. Now Supreme Leader single man! Where we live as man and man Donnie? Not possible in DPRK, we live Wite House? American peoples OK with all kind relationship I see on Goggle.
I am wait for call Donnie! Call soon!
With lovely kisses, your Kimmy xxxx
Ha ha ha! I get joke now, Little Rocket Man very good song by Elton Musk.