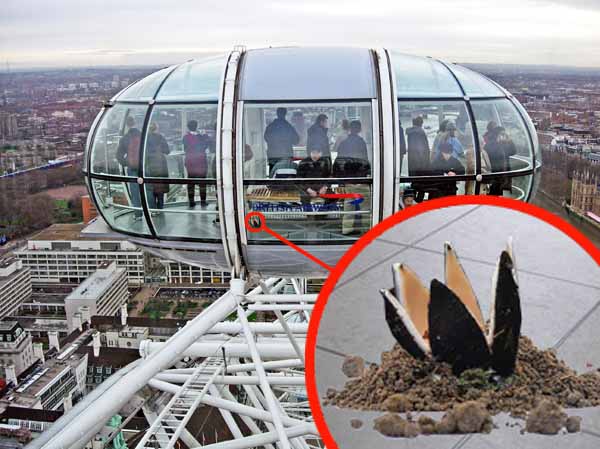 One of the world's rarest fungi, a peculiar star-shaped species commonly known as the Devil's Cigar, has been discovered flourishing in a tiny patch of soil under a seat on the London Eye.
The global tourist attraction will remain closed until further notice.
The Chorioactis geaster has previously been spotted at only two locations in Japan. The brown-coloured star produces an audible hiss as it bursts open to release its spores. It is not known how the fungi came to be growing in such a public location, nor why it was not removed during daily cleaning. One theory is that spores may have dropped from a Japanese tourist's muddy shoe.
A spokeswoman for the London Eye told our reporter that the ride was not permitted to re-open until a specialist travelling from the University of Exeter had preserved and removed the endangered specimen.
'To be honest,' said Customer Experience Facilitator Melanie Freznell, 'it's a bloody nuisance, it's just an old mushroom that should of been binned. And it's costing us £1.2 million a day in lost business.'
The fungi was first spotted by 23 year-old Australian backpacker Charli Coonbee, enjoying the panoramic view of London with her boyfriend, Hunter.
'I didn't see the little critter at first,' she said. 'I just heard like a super big hiss and thought my bloke had opened his lunch.'