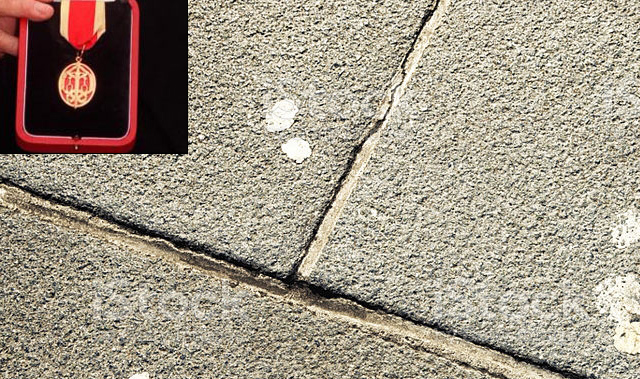 A wages clerk from Bristol has received the ultimate accolade of a knighthood for scraping several blobs of chewing gum from a pavement.
Daniel Hibbert, 26, says he was 'totally gob-smacked' after receiving the thick parchment envelope on Christmas eve.
"It's just unbelievable, isn't it?" he told our Avonmouth reporter. "I thought they only gave these things to tycoons who donate to political parties or millionaire racing drivers."
Daniel's selfless actions were spotted by local newsagent Doris Waverly who nominated him last April.
"The gum is awful round here, 'orrible gobbits of the stuff stuck to the paving," she said. "Nobody takes any notice except young Daniel, who I've seen down on his 'ands and knees in the rain, on his way to work, picking the stuff off wiv his fingernails. Twice, at least."
Daniel, accompanied by his proud parents, will be knighted at Windsor Castle in February, along with other recipients of this year's honours including Sooty (Order of the Glove) and Glenda Faulkes-Perry (OBE for winning the Whitstable Primary School mothers' 60m dash).