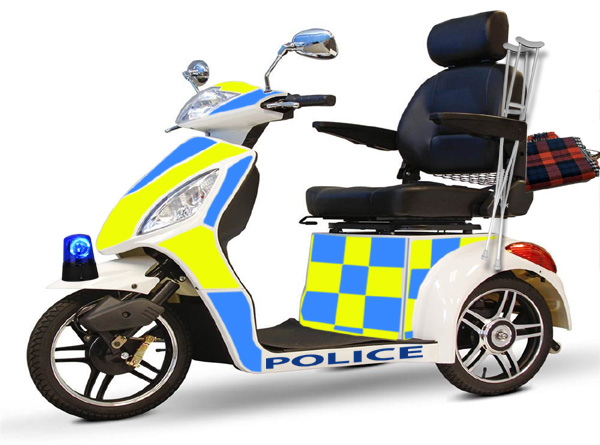 Retired officers below the age of 85 are being asked to return to the Metropolitan Police, in an effort to boost their dwindling ranks.
Met Commissioner Cressida Dick announced the plan this week, paying tribute to the vast wealth of experience that these men and women could offer the force.
'We need these officers back and urgently too,' she told Spoofflé Crime Correspondent Maurice Locke. 'We're offering an excellent re-employment package which includes a 5 hour week, comfy-fit uniform, the latest high performance police scooter and free hearing aid batteries,'
Ms Dick confirmed that the first batch of Z-999 mobility scooters had been delivered and were currently under test. 'They're pretty nifty, especially around town. Top speed is about 6 mph, and we've had accessibility options fitted like crutch and zimmer brackets and a blanket rack. Well, we have to, it's the law.'
We spoke to retired Detective Inspector Gordon Didcote, a sprightly 81 year old from Sutton, who was clearly excited at the prospect of once again being on the force. 'Can't wait, it'll be just like old times,' he said. 'I've dug out my faithful old truncheon, my size 14 boots and my little black book of contacts. Gold dust those pages are.' Didcote, who retired in 1989 and whose credits include arresting Ronnie Kray and smashing the Old Kent Road brassiere theft gang in 1966, thinks he can shake the force up with his old-fashioned techniques. 'I know nothing whosoever about all this facial media rubbish. I tell you, I'll be handing out a few thick ears.'
Mr Didcote starts back at work on October 1st.