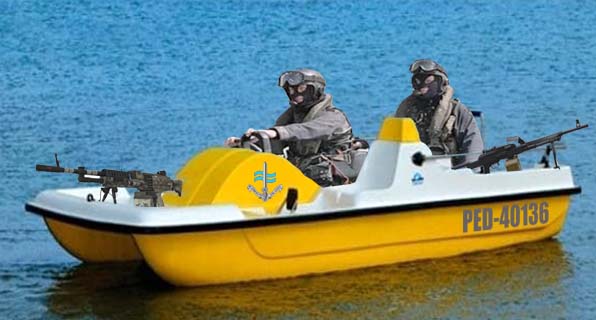 Defence Secretary Gavin Williamson has announced radical plans to modernise the armed forces, starting with the purchase of 130 heavily-armed pedaloes for the Special Boat Service.
He spoke to Spoofflé after the press conference. 'The UK must increase its "mass and lethality"' he said. 'It's all about giving our chaps the best tools to respond to a crisis at a moment's notice, anywhere in the world. And these incredible, lightweight attack vessels will be able to swarm all over an enemy's naval defences before they know what's hit them. Especially the Russians, whose radar we know for sure is unable to detect yellow plastic.'
We understand that the two-man attack boats will be armed with bow and stern 7.62mm machine guns, night vision range-finder and a swimwear drying rail.
Mr Williamson's department claims that the cost of the new vessels (£320 plus VAT and weaponry) will hardly make a dent in the MoD's £180bn equipment plan. 'This was an extensive purchase contract,' added the spokesman, 'involving lengthy due diligence checks carried out by an external consultant as part of their £27 million analysis.'
Spoofflé finally managed to reach the Bognor Regis manufacturer who was selected over BAE Systems to supply the pedaloes.
Barry Motisford, MD of Sussex Fun Boats Ltd, said he was quite surprised to have received the order as he only started the business last Tuesday. 'But I'm pretty sure my son Arnie and me can knock out at least a couple a week, once we have a mould but I'm not sure where you get those yet.'
china russia navy