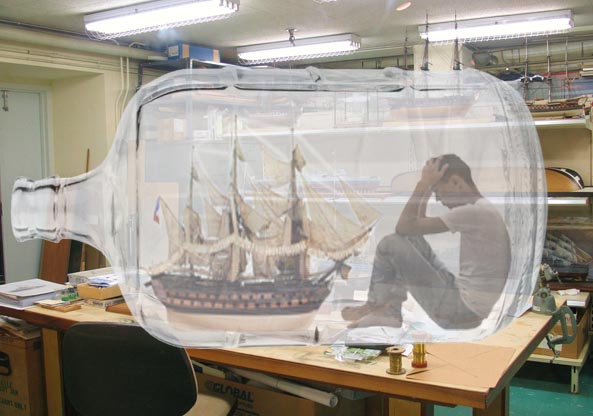 Model ship enthusiast Ashley Nelson is this morning still trapped in a 900 litre glass carboy in his Maidstone workshop.
Ashley (38) has spent the past seven years building an exact replica of an Eighteenth century French warship, complete even down to the miniature baguettes he baked himself, on the sailors' dinner plates. But late on Wednesday evening as he was easing the ship, with its masts and rigging folded down, through the neck of the huge jar, he somehow lost his balance and woke half an hour later to find himself sitting inside the bottle, together with the ship.
'I still don't know know how it happened,' Ashley told Spoofflé. 'Fortunately I had my mobile with me so I dialled 999 and the Fire Service guys turned out.' However, Ashley refused to allow them to break the £400 glass jar, and 36 hours later he is still inside.
'My Mum has been pushing folded up pizzas through the neck of the jar and she's rigged up a plastic tube so I can have a drink of Coke but I'm still hoping to get out without smashing the jar or even worse, damaging the ship.'
For now. Ashley seems content to remain the 'man in the bottle' with his live video feed attracting a global following on social media. 'I'm OK, really,' he said. 'Tomorrow I'm going to try stripping off and squeezing out with the help of some Vaseline, if I can persuade Mum to turn the camera off.'