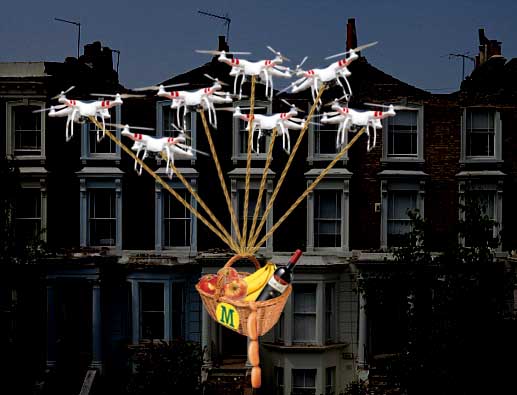 The Morrisons grocery chain this week stole a march on its rivals with the UK's first licensed grocery deliveries by drone.
The 'Fresh-2-You' service harnesses the combined lifting power of multiple, low cost DJI Phantom machines and, it is claimed, promises an 18 minute delivery time on goods up to a maximum weight of 18Kg within a 5 mile radius.
Marketing Manager Jules Hopkins told Spoofflé: 'So, the service only started on Tuesday but we've already filled over 300 orders and our web site has crashed twice due to the demand.'
The new service is being piloted for three months in the area of Horley, Surrey and we asked Mr Hopkins if there had been any teething troubles.
'No, not really,' he said. 'Apart from a minor hiccup in the week before Christmas when we lost contact with a test delivery of pork loins in hoi sin sauce over Gatwick airport. But you won't mention that in your article will you?'