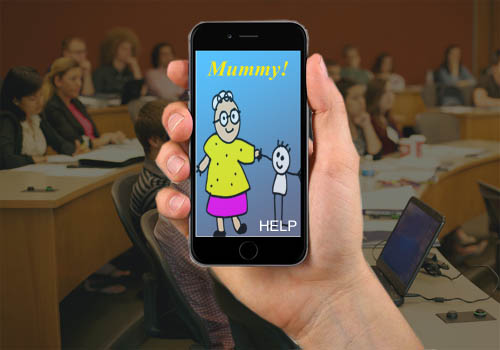 Parents with pathetically useless children who recently left home for university will be relieved by the launch of a new app that claims to answer most of the daft questions they normally receive at 3am.
Available for iOS and Android, the voice-activated program 'Mummy!' claims to be pre-loaded with over 4,000 cries for help accompanied by the practical solutions any sensible adult would already know. Topic categories include cooking, finance, geography, politics, social etiquette and personal hygiene.
Spoofflé received an early version of 'Mummy!' in August and our technology correspondent Crispin Grundwald has been testing it. 'The voice input is pretty clever,' he reports. 'Certainly as accurate as Apple's SIRI. I threw a wide range of questions at it like: "Do you boil rice for three hours or four?" to which it replied: "No darling, just 20 minutes". Then I asked it how you might remove a one inch layer of burned carbon from a saucepan and 'Mummy!' gave a sort of snigger and called me a twat.
The 'Mummy!' app has been developed by psychologists at the University of Wigan, formerly Wigan Tech. Head of department Dr Christabel Flossini emailed Spoofflé a batch of questions actually posed by students during trials at the university.
One student had asked: "Vaseline is OK for toothache, right?" Others queried whether Ireland was still joined to the UK land mass and if it really was true you should pierce the lid of a Fray Bentos pie before microwaving it for an hour. Possibly the most depressing question came from a Sociology student who asked 'Mummy!' to confirm what his middle initial stood for as he had a MENSA application to complete.