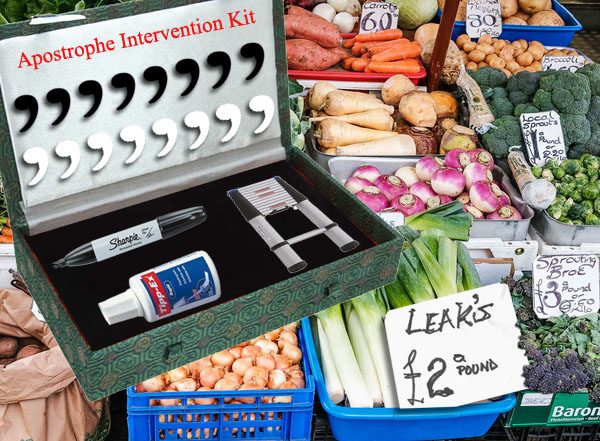 There was sad news this week when the Apostrophe Protection Society announced that it is giving up its fight to maintain correct use of the apostrophe.
Retired journalist John Richards started the society back in 2001 to help preserve the "much abused" punctuation mark, but is now disbanding the organization, claiming that "ignorance has won".
But a Cheshire company has now stepped in with the launch of a practical consumer action toolkit.
Cheshire based Picton Pedants have put together the 'Apostrophe Intervention Kit' in response to calls from people frustrated by the widespread misuse of the apostrophe and keen to do something practical about it.
The box contains a black marker pen for adding missing apostrophes, a bottle of white Tipp-ex for concealing incorrect apostrophes and 60 self-adhesive apostrophes.
Also in the box is a lightweight 14-foot telescopic ladder for hard-to-reach shop signs and suggested strategies for dealing with irate greengrocer's.