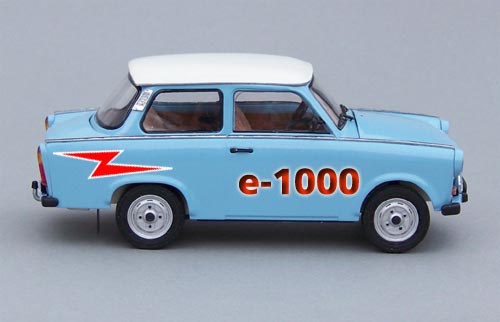 A Californian company is to manufacture an electric version of  the iconic Trabant car, originally built in East Germany from 1957 to 1990.
The radical design marks a departure from using expensive rechargeable battery cells to employing a bank of 3,600 standard AA batteries.
Elton Rusk, CEO of Tossa Cars, gave Spoofflé an exclusive preview of the vehicle. He told our Transport Correspondent Gary Axelrod why his designers had decided to use AA batteries. 'We spoke to literally thousands of wealthy folk and found they were highly skeptical about electric vehicles and extremely worried by the lack of street chargers. They all said the same thing: give us a car with batteries we can change ourselves.'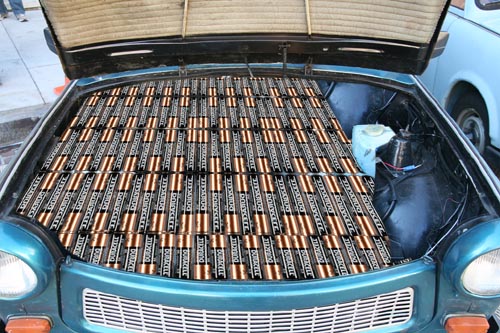 Gary asked Mr Rusk if the new e-1000 would be improved in other areas, since the Trabant had won 'Worst car in the World' award for 41 consecutive years. 'Yea, we know all about its reputation so we've brought it up right to date with a driver's seat belt and a speedometer which goes right up to 12mph.
Asked about ownership and the fact that it would cost over £2,000 each time the AA batteries were changed, Mr Rusk was upbeat. 'So, we're really aiming at high net worth individuals, you know, they've got the super yacht moored at Monaco, the Maclaren F1 in the underground garage, the château in the Dordogne but there's something missing from their lives isn't there? The Trabant e-1000 could be that missing piece.'
The new Trabant will go on sale in the UK in March 2019 with a recommended price of £68,000 (plus batteries), a price which includes 30 days full warranty.