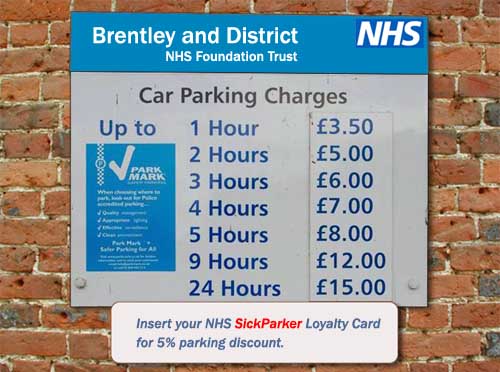 Following the news this week that hospitals in England continue to significantly raise car parking fees, Brentley and District NHS Trust has introduced its own parking loyalty card.
The 'SickParker' scheme offers a 5% discount on parking fees (to visitors who spend a minimum of £1,000 parking annually) a gesture welcomed by the small sample of drivers Spoofflé spoke to.
'It's wonderful news,' said Arnold Stalker, 97. 'And very generous of them too. This is going to save me at least £150 over the next few months as I've got to come in every day to see the physio. Gosh, these visits could have cost me at least £3,500 in parking charges without my loyalty card. So, thank you Brentley!'
Our reporter also attempted to speak to Geraldine Farrant-Gobi, recently appointed CEO of the Trust on a salary of £680,000 as she reversed her new BMW 8 Series Coupe into a private parking space.
Ms Farrant-Gobi referred us to her Press department who confirmed that last year the Trust made a profit of £49,671 on parking fees, an increase of 76% over the previous year.