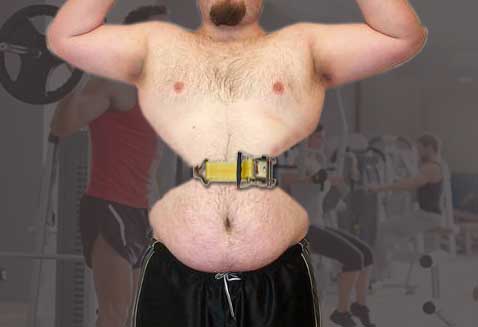 Sports equipment supplier Nike has revealed its new range of external weight reduction accessories, marketed in the UK as the GastroGym 1000.
Sales Director Petra Ericsson told Spoofflé: 'Middle-aged men have a really big problem with obesity, mainly due to having no self-control and stuffing their faces at every opportunity with beer and junk food. Surgery is an option but it's a pretty messy procedure and not always reversible. That's why we developed the 'GastroGym' – it compresses the stomach so tightly that the wearer feels full after just a few peanuts.'
Our Health Correspondent Dr Cressida Thompson-Bone investigated the background to the new product. 'It's actually not new,' she said. 'This thing has been around since about 2014 in the US where it was sold as the 'Fat Guy Belt' but it didn't do very well after a couple of rather unfortunate and highly publicized accidents involving over-tightening. I don't think it's worth the risk, but if you did decide to wear it, I would suggest keeping a sharp knife handy.'
The GastroGym 1000 will be available on Amazon from February 2nd with an RRP of £27.99.