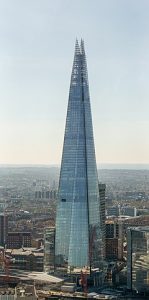 Onlookers at London Bridge station were stunned yesterday afternoon when a woman scaled the outside of The Shard to rescue a pigeon that had become trapped in a window frame on the observation deck.
Investment banker Roddy Faulke-Smythe was amongst the crowd that had gathered below. "It was just, like, you know, simply amazing, we were all waiting for the fire people or a helicopter or something to come when this big lady with curlers in her hair suddenly sort of, you know, pushed to the front, tore off her cardigan and whizzed up the glass!" Faulke-Smythe says people were clapping and cheering as the woman climbed the almost sheer face of the building. "How she did it, I have no idea," he said. "Then half way up, one of her slippers fell off."
Plumber Eddie Crouch watched the drama unfold from his van in Joiner Street. "Like a rat up a bleedin drainpipe she was," he said. "I got it all on me iPhone, three minutes ten seconds it was, bottom to top. Then the 'elicopter picked her and the pigeon up."
A spokesman for the Metropolitan Police confirmed last night that Lyudmyla Biletskyy aged 48, an illegal immigrant from Ukraine had been questioned but released without charge.
Ms Biletskyy, who gave her occupation as an 'adult comfort worker' today met Prime Minister Theresa May at Downing Street where she was granted full UK citizenship, a seat in the House of Lords and a Tesco loyalty card. Afterwards, Ms Biletskyy told our reporter that she was very proud of what she had done.
"I not think for danger, just see poor animal need help," she said. "In Kiev, apartment lift not work good. Every day we climb up windows so this normal for me."
It is understood that the Queen has invited Ms Biletskyy to Buckingham Palace for tea. In a separate development, the London Fire Service and three window cleaning companies have all offered her full-time jobs.