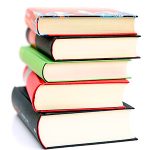 Residents of a sleepy Bognor street began last week mourning the violent death of a popular retired teacher. Bernard Stoat, 92, was discovered by his wife battered to death on their doorstep at 10.30 on Tuesday morning. The bloodstained weapon – a hardback copy of Tolstoy's 'War and Peace' – was found lying nearby.
Mr Stoat's body was taken by ambulance to an undisclosed location, leaving his wife Miriam distraught.
"It's bloody unfair," she told a Channel 4 reporter. "He's not felt himself lately, what with the hernia and them threatening letters about some naughty book they say he's had out for years."
Mr Stoat, a fierce critic of Bognor Town Council's Library department, is understood to have felt so threatened for their safety they had moved house five times. "It's such a terrible waste," added his widow, blowing her nose on a J-cloth. "He'd only just renewed his Senior Rail card."
But as grieving relatives gathered that evening at The Frog & Walnut for a candlelit vigil and hog roast, a grinning Mr Stoat suddenly appeared three miles away at Bognor police station for a hastily-arranged press conference.
"I'm really, really sorry I've upset my family and friends like this," said Mr Stoat. "But the police planned the whole thing to save my life – I'm just so grateful."
Pressed on why such drastic action had been employed, Detective Chief Inspector Mark Thumper explained the background to the case.
"Over the past 35 years, Mr Stoat has been the subject of a very nasty campaign from an unidentified individual, demanding the return of a book ('Fat men in bondage') which they claimed Mr Stoat was loaned in 1983 and which he has always denied.
A death threat was subsequently received on Monday evening and, with Mrs Stoat's agreement, we pre-empted the crime by faking the murder, so forcing the perpetrators to panic and reveal their identities."
Pressed for further information, DCI Thumper revealed that a 59 year old librarian and an unemployed Romanian fire-eater had been arrested on suspicion of conspiracy to commit murder.