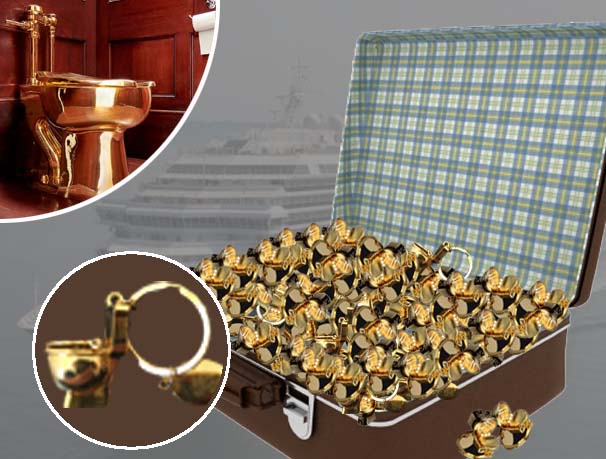 Two British pensioners in their 80's were arrested on smuggling charges in Lisbon last night when their luxury cruise ship docked from Southampton.
Retired plumber Maurice Dent, 88, told Portuguese police he had no idea the fifteen suitcases given to him and his wife Ada, 84, as they boarded the Silver Sunset were packed with 37,612 gold key rings.
The 18 carat haul is estimated to have a total value of over £4 million and is believed to be connected with last month's audacious theft of a gold toilet from Blenheim Palace, Winston Churchill's birthplace.
Mr Dent told Spoofflé by telephone that the couple were given the suitcases on the dockside by a man they knew only as Jonno.
"Nice geezer, 'e was, asked if we could do 'im a favour like, take a few suitcases of knitting wool out to his old mum in Barbados. We didn't think to look inside them although I must admit, they was a bit 'eavy."
Neighbours of the couple's modest bungalow in Woodstock, Oxfordshire, said they rarely saw them.
"Always off on bleedin' cruises," said local postman Arthur Janus. "Dunno how they afford it, that and the Ferrari he drives. I think he did odd plumbing jobs at that Blenheim Palace down the road but they can't pay much can they?"