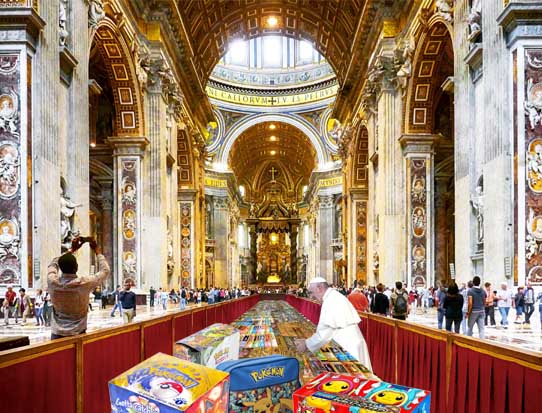 Visitors to the grand Papal Basilica of St Peter's in Rome will no longer be able to marvel at Pope Francis' extensive display of Pokemon cards and merchandise after the entire collection sold for £13 million yesterday at Sotheby's in London.
The auctioneer claims this is the largest single lot of Pokemon memorabilia ever to come onto the market. Sotheby's would say only that the bidding was on behalf of someone called 'Kim', presumed to be a wealthy American actress.
Last year the Pope revealed to Hello! magazine that he started collecting Pokemon goods in 1996 and since then had accumulated over 139,000 items. His hobby, he explained, helped him unwind from the pressure of papal duties.
"I spread them out, like a feast," he said. "Then I stroke them, for comfort." Asked if he had a favourite character, Pope Francis was typically non-committal. "Ah, you ask," he replied with a smile. "They all ask this question … Obama, Dalai Lama, Bowie … they all wanted to know. But you see, these are my children and I love them all."
Vatican spokesman Mario Bulbasaur told us that the collection had been sold to make room in the Basilica for the 1,800 metre OO gauge model railway that his holiness recently bought on eBay.