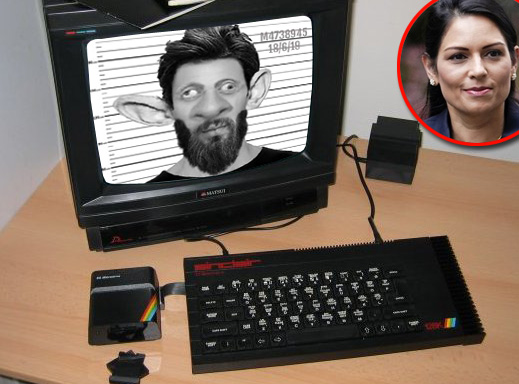 UK home secretary Priti Patel is facing growing pressure to explain how 150,000 arrest records were accidentally lost.
The records included the fingerprints, DNA profiles and inner leg measurements of people arrested but later released without charge.
Our Crime Correspondent Maurice Locke spoke to an IT specialist as he left the national police intelligence centre in Birmingham. "Gary" (not his real name) said: "I've been telling them for years the Sinclair Spectrum wasn't up to the job, ever since they got rid of the two Cray supercomputers to save money. But they did upgrade the Spectrum to 128K bytes a few years back, which helped a bit."
Asked for details of the police department's data back-up procedures, "Gary" revealed that nobody had really thought about it. "Well, I always take the Spectrum home each night so we didn't need a back-up did we? Bit embarrassing though, leaving it on the 8.13 this morning."
The Home Office later said that no records of dangerous persons had been lost, and that the records were simply those of 150,000 people arrested but later released when officers decided they were telling the truth.
Kit Malthouse MP, Minister of State for Crime and Policing, later appealed for people who had been arrested and released in the past ten years to visit their local police station to arrange for their DNA and fingerprints to be taken once more.
"Officials are working at pace to ramp up a gold standard data recovery plan going forward," he told Spoofflé. "We know exactly what happened and will be learning from this incident. I have now ordered not one but two replacement Sinclair Spectrums for the National Police Computer centre."