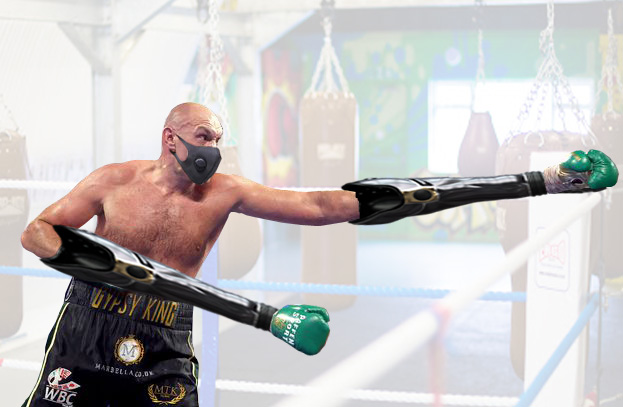 The WBC announced this morning that heavyweight championship boxing matches may resume in October, but under strict COVID-19 distancing rules.
Boxers must wear one metre carbon fibre arm extensions and face masks must be in place before entering the ring. A requirement for boxers to hold their breath during each three minute round has been described by UK sports experts as 'bonkers'.
Two-times world heavyweight champion and national treasure Tyson Fury has tried out the new equipment during lockdown sparring sessions with his eight year-old son Prince John James. He told our sports correspondent Kay Smiley what he thought of it.
"Not too bad," he said, "a bit on the 'eavy side but I suppose we'll get used to 'em."
Tyson also revealed that his son had used broom handles with gloves taped to them when sparring. "Yea, 'e did actually knock me out but better not to mention that, you know, in the article?"
Fury is scheduled to fight Deontay Wilder for the WBC heavyweight championship title on December 19, with the venue still to be decided. Spoofflé wishes him the very best of luck.