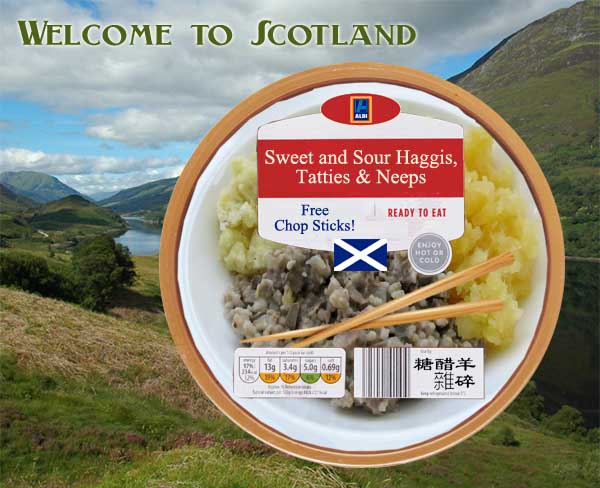 Supermarket chain Aldi has invested in a range of ready meals aimed at the growing volume of high spending tourists from China's emerging middle class visiting Scotland.
A study by VisitScotland has revealed that the three most popular items on Chinese visitors' itineraries are: 'To see the Loch Ness monster', 'Play the bagpipes' and 'Eat Haggis'.
The first ready meal to hit Aldi shelves next week is 'Sweet & Sour Haggis with tatties and neeps' which includes chop sticks and a biodegradable bib.
Marketing Director Angus McRafferty described the new range to Spoofflé: 'Aye, well they're all made with authentic, free-range Scottish products, from the wee wild Haggis we raise on our own farm in Ayrshire to the line-caught Arbroath Smokie dumplings from Loch Eribol.'
Our cookery editor Stefanie Baker sampled the Haggis dish. 'Unusual,' she said. 'But surprisingly tasty, when you consider that it's just three piles of grey, orange and white mush.'
China Chinese