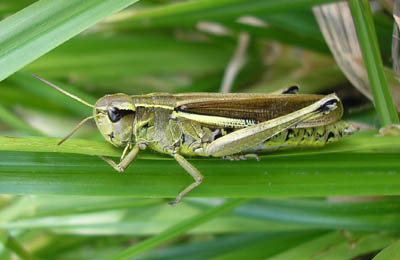 A locust, first spotted this week at Devon Wildlife Trust, has escaped and turned up in a garden in nearby Loddiswell and eaten the fruit and leaves from an entire apple tree.
Experts believe the recent strong westerly winds have brought the locust in from southern Europe or North Africa.
Retired electrician Fred Gimble (83) had stopped picking apples in his garden to go indoors to the toilet.
'I was only gone a few minutes, five or six at the most, just for another pee,' he said. 'But when I come out I couldn't believe it, the tree was stripped bare … everything. Leaves, fruit, the whole blinking lot, gone.'
Fred spotted the culprit lying on its back in the crook of a branch. 'He was on his own and looked a bit tired,' he told us. 'It's incredible though isn't it? A little thing like that can eat all of this?' He said he felt some admiration for the insect until he stopped for his lunch. 'Little bugger had snaffled my Marmite sandwiches, a dark KitKat and a banana. He must have swallowed the wrapper too.'
The locust eventually flew off towards Portsmouth.