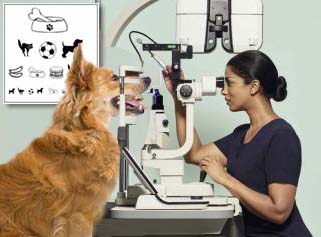 When Jack Clement's Labrador Bozo started mistaking double-ended spanners for his favourite bone, he knew something was wrong with the twelve year old pet.
But after a 30 minute visit to a local Specsavers, Bozo's problem has been identified: he is suffering from age-related visual confusion, a condition thought to be brought on by having too many different kinds of toy.
The disorder was highlighted by an OCT (Optical Coherence Tomography) scan using the latest system installed at the store, a service being provided pro bono by Specsavers.
Store manager Tracey Gillick explained the service to us. "So, it's been really, really popular with our regular customers," she said. "We start the consultation with a vision test, using a special wall card, recording their level of recognition with a micro-wagometer clipped to the dog's tail."
We asked Tracey if there was anything that could be done to improve Boz's sight to avoid him running off with spanners instead of bones – cataract surgery or spectacles, for example.
"Don't be ridiculous," she said, "he's as daft as a brush."
This
is one of several pet-related ventures currently being tested by UK companies. Spoofflé has become aware of rumours that Dyno-Rod was planning to support vets with an anal gland-emptying service but so far have not answered our calls.