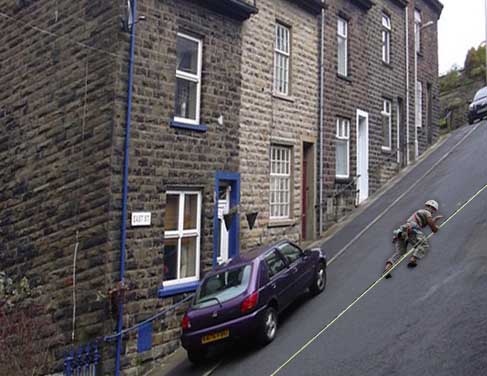 Less than 24 hours after the Welsh village of Harlech claimed to have the steepest street in the world (36 degrees), the tiny Lancashire village of Ayupton has now laid claim to the title.
Manchester surveyors Ramsbotham & Threadle measured the slope with a laser clinometer to be 44 degrees at its steepest (a gradient of almost 1:1) and have submitted their results to the Guinness Book of World Records for verification.
Local resident Roger Thorogood told Spoofflé that as far as he was aware no one had ever been able to walk up the hill unaided and that a local climbing club often used Bobbin Street for training. 'Oh aye,' he said, 'She's a real steep lass, is she. We had a young lad who tried once but 'e only got as far as Mrs Arbuthnot at number 23 and 'e 'ad to give up.'
Mr Thorogood, who owns the local garage 'RT Clutch Repairs Ltd' at the bottom of Bobbin Street, hopes that their new world record will attract many more tourists to the village.