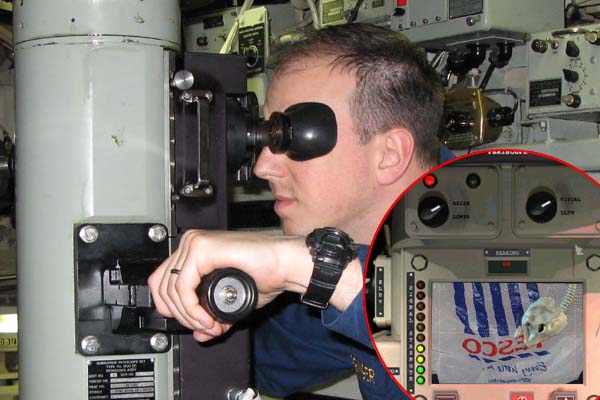 Secrecy surrounding the location of the UK's nuclear deterrent was severely compromised on Monday afternoon when HMS Victorious unexpectedly surfaced a mile off Clacton-on-Sea.
Crew members were seen by holidaymakers clambering along the hull of the £3 billion submarine to remove a plastic shopping bag wrapped around the periscope.
Canoeist Eric Parker almost capsized when the 16,000 ton vessel rose out of the water next to him. "I thought it was a bleedin' whale," the 38 year-old plasterer told us by telephone. "Then the 'atch opens and this Rambo in black points a bazooka at me and shouts 'scarper'. So I did."
When our Defence Correspondent Rory Barrel contacted the MoD about the incident they refused to comment. However, he was able to speak to Colonel Vasili Dabitoff, Defence and Military Attaché at the Russian Embassy in London.
"Ah ha! So – is very interesting," he said. "We think for certain Victorious in Indian Ocean, not Clacton. Maybe now we use Tesco bag as cheap deterrent, eh?"