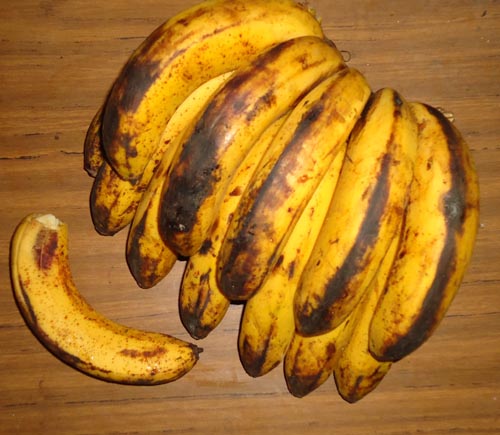 A retired civil servant and amateur inventor claims to be generating all of his electricity from discarded bananas.
Percy Wheelhobbler (69) from Fornham All Saints in Suffolk says he is capitalising on the high volume of bananas being wasted by British households, estimated to be around 160 million per year. He says he stumbled on the idea at a barbecue when his seven year old grand-daughter was roasting a banana on a stick over the fire. "I noticed this beautiful purple flame licking out through the skin and the little lass asked me if it could be due to the high proportion of volatile meta-hydrocarbons being released when the banana flesh had reach its Lamda ignition threshold."
Wheelhobbler did some research and found that the girl was quite correct, so he set about building a 7 metre high stainless steel boiler behind his runner beans. The bananas are super-heated and the resulting gas is fed by pipe at a pressure of 6 Bar to a turbo generator in the greenhouse. Excess gas is stored and used to help heat the boiler. The rig is currently producing between 7Kw and 13Kw, depending on the age of the bananas, apparently enough to light and heat his three bedroomed bungalow and Mrs Wheelhobbler.
"The biggest snag at the start was getting enough bananas," he added. "So I built a big, open trailer for my bike and I tour the streets of Fornham All Saints, collecting everyone's leftover bananas. I usually get a couple of trailer loads by 10 o'clock then it's back home to crush them by foot on the patio. We always do them barefoot, it's that lovely squishy feeling when the goo quirts up through your toes. Muriel and I get a bit excited even just talking about it."
Fornham All Saints residents seem happy about Mr Wheelhobbler's activities. Sarah Fascinata told Spoofflé that whenever he cycled past her house shouting 'Bring out your old bananas!' her children would gather them up and run after him. "They love Banana Man, they really do, but they get so upset if he misses a day" she said. "Thank god the school holidays are over, he's cost me a bloody fortune buying bananas from Tesco every day."
, near Bury St Edmunds