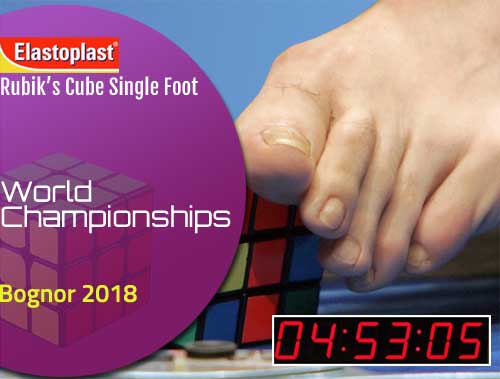 A record 460 people from 57 countries competed in last week's one-footed Rubik's cube championship held at Butlins Bognor Regis and sponsored by Elastoplast.
The prestigious event has taken place annually since 1982 and this year saw the world record in the shoe size 8-11 category beaten by a margin of almost twenty minutes.
Jay Transom, 28, a master thatcher from Aldeburgh, took just over four hours and fifty three minutes to solve the puzzle, despite suffering severe toe cramp halfway through.
'This was the big one,' he said. 'Oi've been trainin 'ard all year, twelve hour a day it's been. So yeah, I'm over the moon.'
Director of Marketing Lizzie Bunyonne presented Jay with the gold medal plus £1,000 in Elastoplast gift vouchers. 'My company is extremely proud to be sponsoring this important event,' she said. 'I hope Jay's amazing performance will be an incentive to the many British people who still think you have to leave your armchair to take part in and excel at sport.'