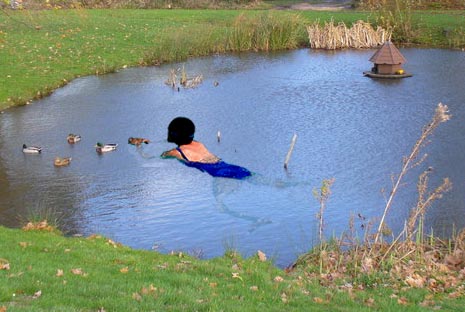 A 78 year old Suffolk woman has set a new World record for staged, non-stop pond swimming.
Marianne Wrinkle started the swim on June 11th and stepped back onto Snogland village green yesterday, having covered 1,983 miles in 148 days.
Swimming anti-clockwise around the 24 metre wide pond for 14 hours each day, Marianne was sustained by hourly handouts of tea and a total of 845 cherry cupcakes. A team of WI members supported her around the clock, holding onto the string attached to her pink Lidl airbed while she slept.
Marianne told Spoofflé that she felt a bit wobbly but apart from that was in good health. 'The frogs were a bit of a problem,' she said, 'whacking me in the face, especially at night. That and Saturday nights, being used for target practice by local lads with a catapult.'
But the greatest challenge was due to this Summer's extended drought. 'Well, by the end of July the pond had all but dried up,' she said. 'It was right down to a puddle in the middle about a foot deep and if it hadn't been for the Snogland Scouts and Guides topping the pond up with buckets of water every day, I would have been forced to give up. They're heroes aren't they?'
Our Sports Editor Kay Smiley asked Marianne what had kept her going. 'Well, it was only waist deep which was reassuring. But I suppose really I viewed it as a lot tea and cakes with some swimming in between!'