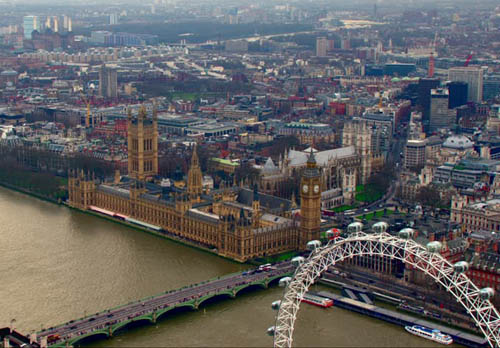 Following this week's televised interview with typical Russian civilian tourists Ruslan Boshirov and Alexander Petrov, Thomas Cook has identified a growing need for very short city breaks.
Aimed at time-poor Muscovites, the 'micro tours' offer visitors a high speed helicopter dash across London to 'drink in the splendour of the wonderful 366 foot high tower of St Paul's cathedral, visit beautiful Tower Bridge with its 1,000 tonne bascules and an extensive three minute visit to enjoy at leisure the glorious Buckingham Palace.'
Travellers are promised fact sheets and a memory stick containing 'over 250 high quality images' to avoid the inconvenience of carrying a camera and, for a small extra charge, with their own image professionally superimposed, smiling in front of each attraction.
Arriving at London Heathrow on the 10.35 Aeroflot flight, visitors can expect to bypass immigration controls and be whisked by limousine to the Ritz for a five course lunch between 11.45 and 12.05. A helicopter will then collect the party of up to seven tourists from Hyde Park for the eighteen minute 'cultural city tour' before getting them back to Heathrow in time to board the 13.25 flight back to Moscow.
An optional overnight package is also offered, including a room at the authentic 2 star 'Bricklayer's Arms' in Whitechapel, with a choice of either high speed train for an eleven minute (snow slush permitting) tour of the whole of 'wonderful Salisbury' or the more comprehensive seventeen minute guided tour (with lunch) of the 'unforgettable' Stratford-on-Avon.
We understand from Thomas Cook this morning that their micro tours are now fully booked until June 2019 through their sole agent in Moscow: GRU Travel, Khodinka Airfield.